Visit PULSEROLLER at Logis-Tech Tokyo 2018
The PULSEROLLER booth (East Hall 2 - Number 304) encompasses the most powerful rollers and smartest controls in the industry to solve your toughest materials handling challenges. Come see us in Tokyo from September 11 to the 14. PULSEROLLER will showcase the brand's wide range of DC Motor Rollers and our latest innovations designed just for the European and Asian markets.
Senergy Ai
The low voltage Motor Roller which offers the widest ranges of speed and torque in the market today. Our latest patent pending IP54 roller is a 4-Pin M8 connector for connecting to our IP54 controls. The 4th pin uses digital coding for the hall effect signal, serial number, motor history, gearbox type and much more. The Senergy Motor Roller also addresses a wide range of needs such as tapered sleeves, dual grooves, poly-v, sprockets, mechanical brake, wash down specifications and much more.
MotionLinx Ai is PulseRollers's EtherCat two zone high speed controller. Designed for a wide variety of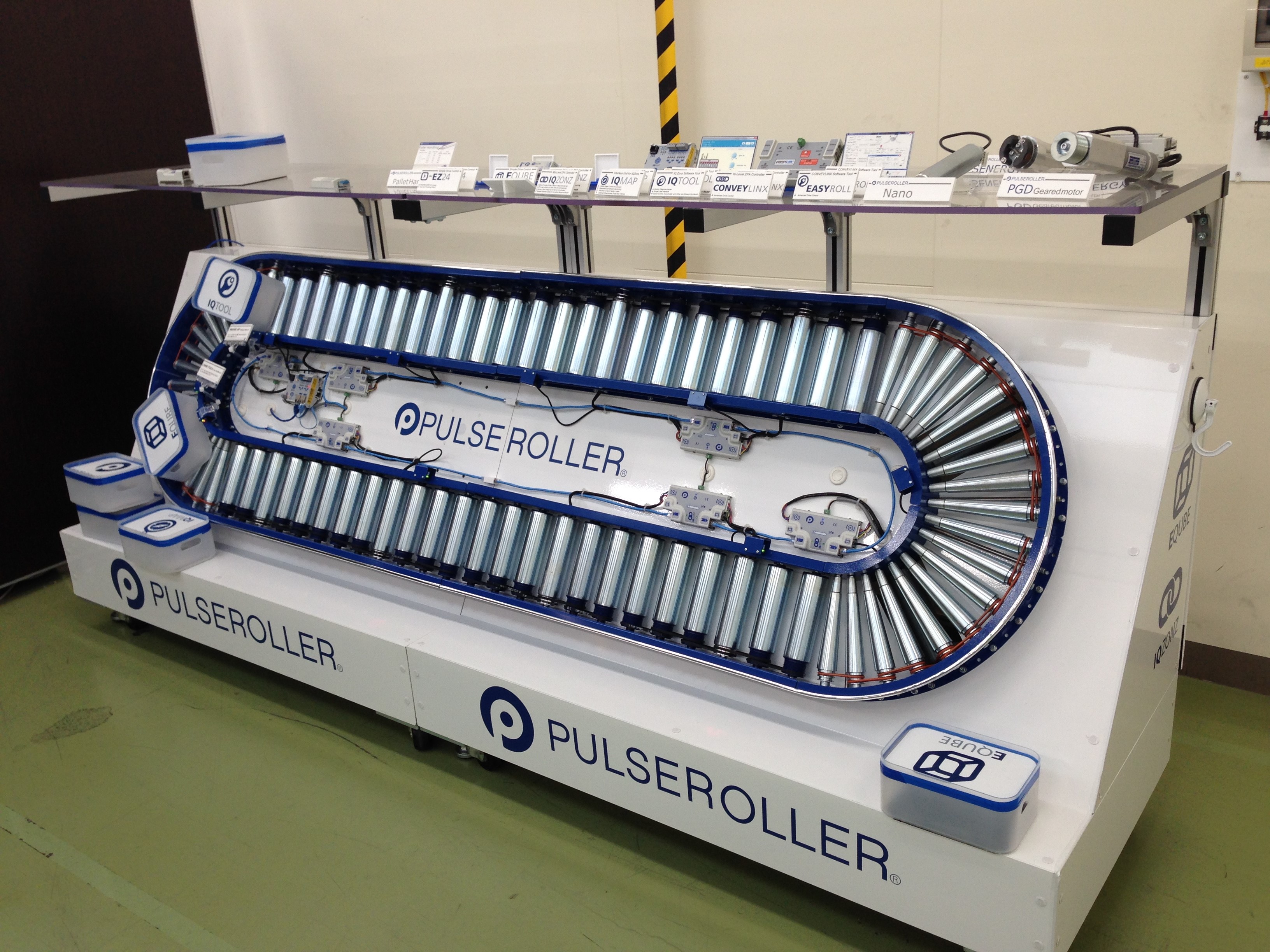 applications in the conveying and machine building industries, it can drive two Senergy Ai or PGD Ai drives. A maximimu of four sensors can also be connected via two M8 Connectors.
CONVEYLINX Ai2
ConveyLinx, The most powerful Controller within the PulseRoller family. ConveyLinx can give you in-depth control of every possible Motor Driven Roller application available. This updated design of our standard Conveylinx now comes with an IP54 Rating, ODVA EthernetIP Conformance, and Robust 4Pin M8 Connectors for the sensors and motor connections all in a much smaller form factor.
EQUBE and EZ24
A low cost drive card to run low voltage DC brushless motors via digital inputs for forward or reverse. Controls speed and motor selections with dipswitches.
PDU-90
The Pulse Divert Unit is a well proven right angle transfer design using robust and reliable technology. Every Pulse Divert Unit is specifically configured based upon your needs and your unique application. The PDU 90 will fit your application every time.
PPU-90
The Pulse Pop Up 30 Degree Unit is the latest assembly added to PULSEROLLER lineup. Come see it in action at Logis-Tech Tokyo this year. Every PPU is specifically configured based upon your needs and your unique application. Build a sorter quickly and efficiently with our latest Pulse 30 Degree Divert Unit with ConveyLinx Ai in control.
LOGIS-TECH TOKYO (LTT) is one of the largest Material Handling and Logistics trade show in Asia. More than 500 companies exhibit including Japanese leading companies and over 67,000 logistics related visitors from all over the world attend LTT in each edition. Exhibitors and visitors discuss, exchange information actively and find their new business partner.
PULSEROLLER is the brand name for a superior family of 24VDC Motorized Drive Roller products and controls. PULSEROLLER's brand consists of a variety of motor driven rollers of various diameters and configurations, GearDrives, the most advanced Ethernet networked drive controllers, and various other components required to assemble and implement MDR Conveyor and Zero Pressure Conveyor Systems. Our customers understand and appreciate that PULSEROLLER provides excellent quality, great savings and tremendous capabilities while providing great service and support at every phase of their projects.
Global Marketing: David Sellers
Email: dsellers@insightautomation.cc
Phone: +1(859)647-8940
Outside USA: /contact/