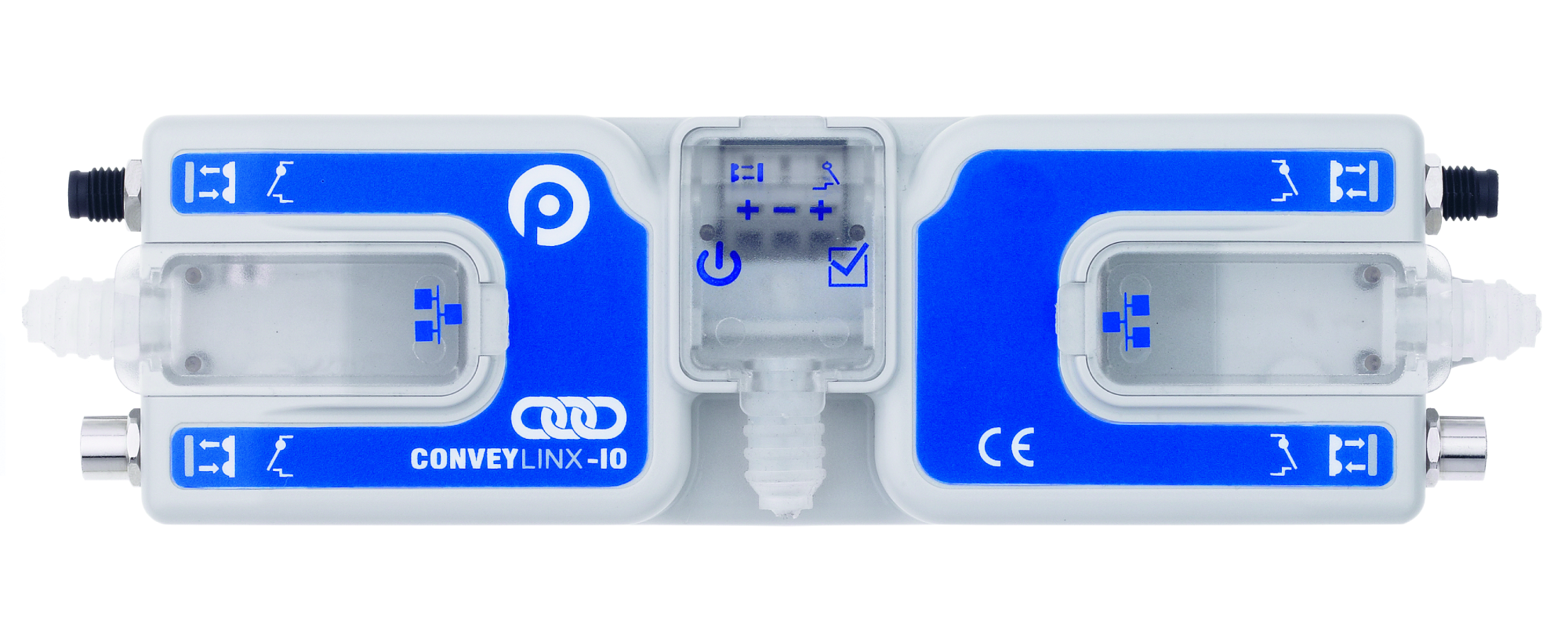 ConveyLinx-IO
When your application calls for additional I/O points, ConveyLinx-IO is the perfect complimentary addition to a ConveyLinx system.

CONTACT US
Many times motorized drive roller conveyor systems require additional IO for devices such as stack lights, push-buttons, solenoids, and proximity sensors. With
ConveyLinx-Ai2
you do have a couple of auxiliary IO points, but when more is needed
ConveyLinx-IO
is the perfect complimentary addition to a ConveyLinx system. 
ConveyLinx-IO is fully compatible and is commissioned along side any ConveyLinx family device and network using EasyRoll software.
ConveyLinx-IO communicates on Ethernet IP, ProfiNet I/O, Modbus-TCP, and CC-Link IE Field Basic protocols for easy access by most any PLC.  All of the various parameter and configuration files for these protocols are available in the Resources tab on this page.
ConveyLinx-IO
offers a compact low profile design with 8 points that can be configured as either an input or an output.  When configured as an output, each point is rated at 300mA which should be sufficient for most digital devices devices.  Output points are also powered by a separate power supply connection for emergency stop requirements. 
ConveyLinx-IO also has the ability to accept a downloaded logic program from our ConveyLogix programming software.  This in essence can turn a ConveyLinx-IO module into a small fully functional PLC.
Card title
Card subtitle
Some quick example text to build on the card title and make up the bulk of the card's content.
Card link
Another link
Reduces Cost and Saves Time

Super Compact Design
Deterministic Network
Collects Important Information
Robust M8 Connections
CE ETL UL and IP54
Versatile and Economical
ConveyLinx-IO offers a compact low profile design with 8 fully configurable inputs and outputs. Use the additional I/O for devices such as stack lights, pushbuttons, solenoids, and proximity sensors.
- CE certified, RoHS compliant, IP54 rated
- ETL listed (UL 6101-2 & UL 61010-2-201
- UL recognized (UL 61800-5-1)
- 4 M8 ports each with 2 configurable input or output points for a total of 8 I/O
- 2 M8 ports utilized male pins and 2 M8 ports are female receptacles
- 3-port Ethernet switch with standard RJ-45 sockets for easy daisy chaining of network cables from controller to controller
- Simultaneously recognizes Ethernet I/P, Modbus TCP, Profinet I/O , and CC-Link. IEF basic protocols on the same controller.
- 6 tri-colored context sensitive LED indicators
- Any or all of the 4 ports can be configured to accept push-pull type sensors
- Auto-configured with EasyRoll and can share network with any ConveyLinx family module
- User programmable functionality available with
ConveyLogix
software
Technical Data
Input Voltage

21 to 30VDC

0.4mA is Maximum OFF current. 1.5mA is Minimum ON current.

Maximum current per Output is 300mA


Robust and Unique Gearbox Design significantly improves life expectancy

JST Cabling for Simple Installation and Robust Cable Routing, IP54

CE Approved

ROHS Compliant

ETL Certified to UL Standards Available

IP54 & IP66 Ratings Available

ETL Certified to UL Standards Available

Freezer and Wash-Down Rated Rollers Available

Mechanical Braking Available
Use our contact page to be directed to the correct sales channel.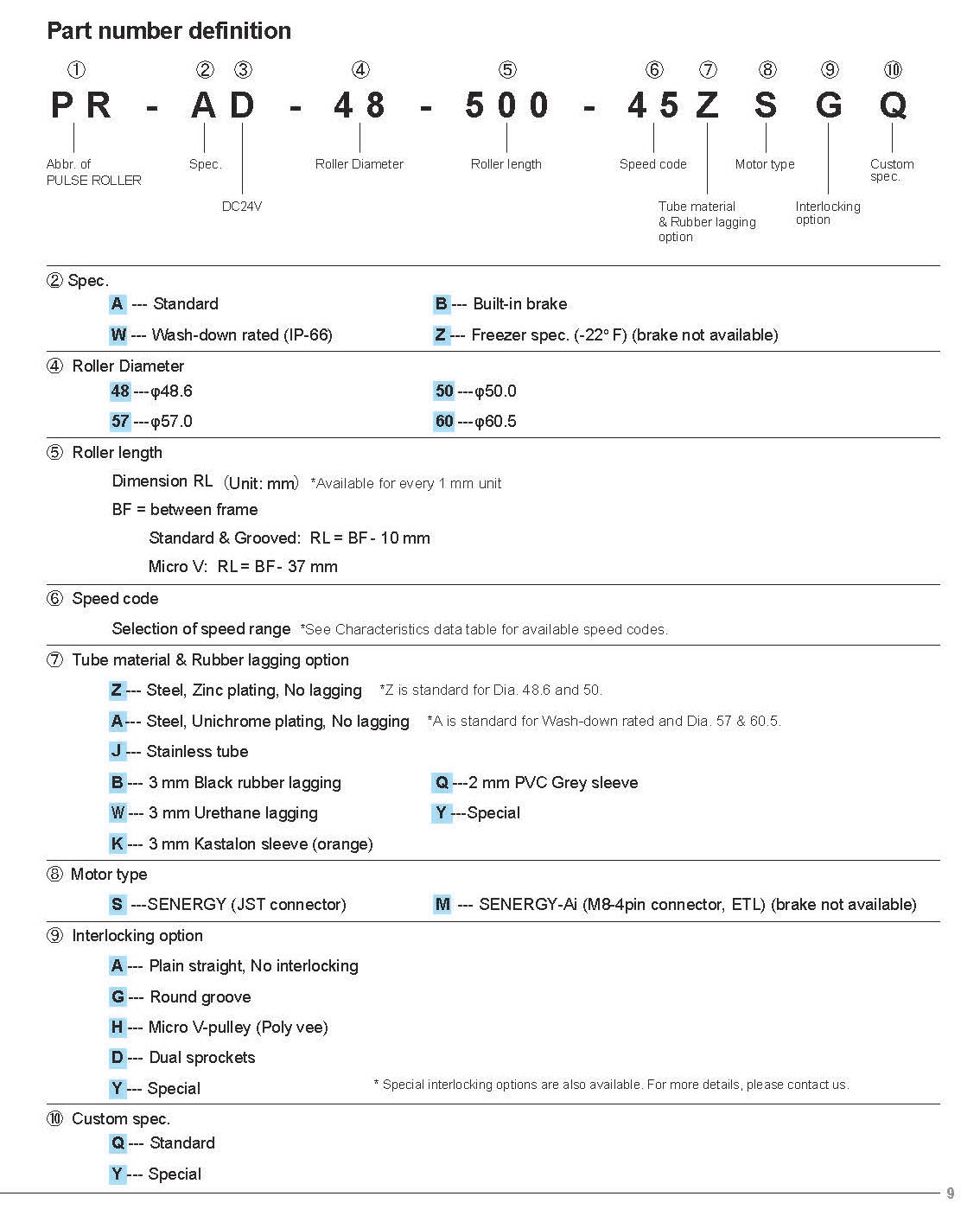 Need help? Contact our product specialists TODAY!
CONTACT US