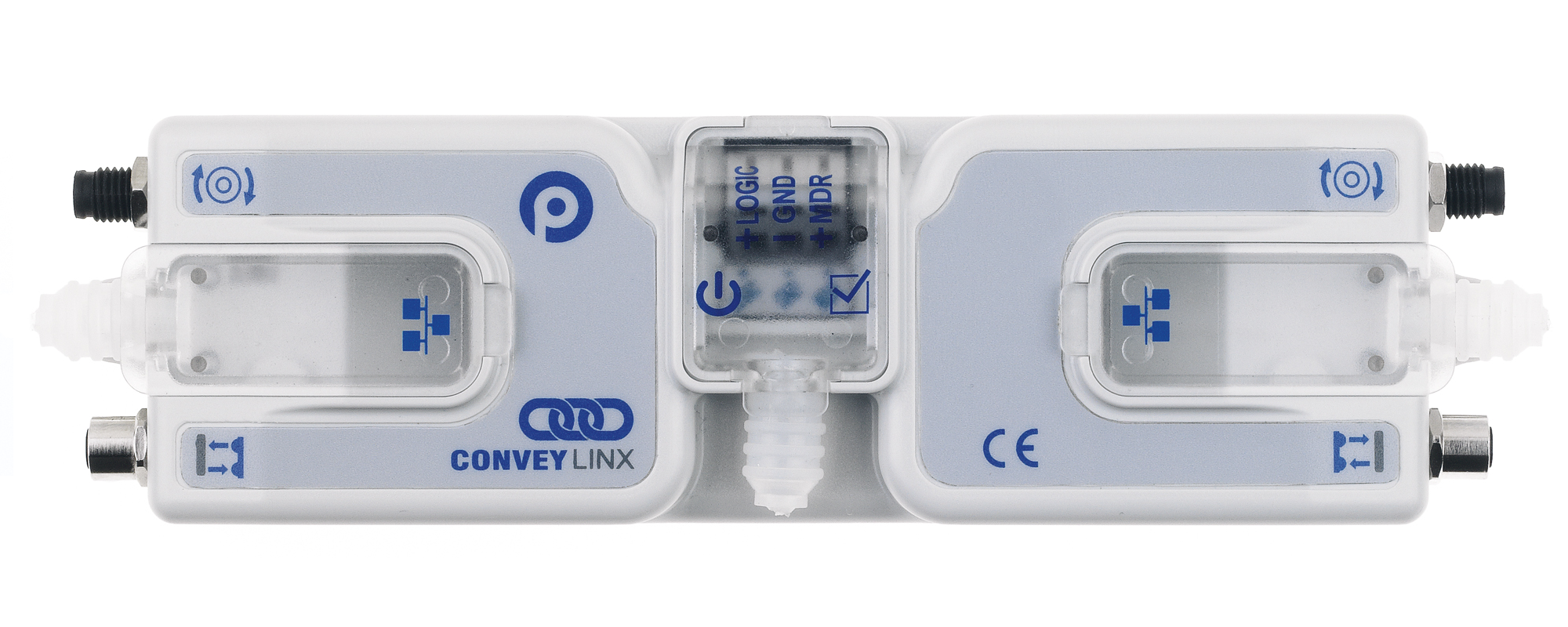 Conveylinx-Ai2 Advanced Intelligence Drive Control
ConveyLinx-Ai2 is our advanced intelligence, high end networked motor drive controller which provides many innovative features for zero pressure accumulation or ANY application utilizing low voltage brushless DC motors.

CONTACT US
USER MANUAL
Over the past 10 years, the  ConveyLinx Family  has become the industry's favorite choice for controlling low voltage conveyor and other islands of automation.   ConveyLinx-Ai2 is a networked dual motor controller in an IP54 package that contains highly advanced features such as built-in accumulation, stand-alone programmability, dynamic braking, closed-loop speed, internal tracking and so much more.  With a quarter-million installed globally, it's apparent the need for in-depth modular control and diagnostics over a high-speed network is a necessity in today's automation applications.
ConveyLinx-Ai2 is the most powerful controller within the PULSEROLLER family.  It gives you in-depth control of every possible Senergy-Ai MDR and geared drive application available.
Out of the box,  ConveyLinx-Ai2 is a zero pressure accumulation ( ZPA ) controller for either two Senergy-Ai or Pulse Geared Drive-Ai drives.  This is accomplished by connecting two drive motors, two sensors, supplementary I/O, and a standard Cat5 shielded ethernet cable to the next downstream card.
After wiring is completed, you must install our free downloadable software package EasyRoll .  After installation, a PC is connected to the first or last ConveyLinx-Ai2  module by using a standard Ethernet cable.  EasyRoll then initiates automatic addressing and configuration for ZPA operations of each card connected.  Further changes to the configuration can also be accomplished by using EasyRoll .  There is a wide range of parameters that can be adjusted including roller speed, acceleration, deceleration, direction of transportation, jam time values, ZPA release functions and many more features only found in ConveyLinx-Ai2 .
When it comes to more complex conveyors, ConveyLinx-Ai2 can be directly connected to most major brand PLC's using Ethernet I/P , ProfiNet I/O , Modbus-TCP , or CC-Link IE Field Basic

protocols

.  All required interface and configuration files are available for download.  Once a PLC is connected it may simply provide supervisory control where ConveyLinx is operating the local logic for ZPA Mode , even though a PLC is not required for ZPA operation .  The PLC can issue commands to accumulate and release individual zones as well as read and write tracking data.  ConveyLinx modules can also be placed in PLC I/O Mode where all on board logic is suspended and the PLC takes over complete control of motors and reacting to sensor inputs.  This in essence make the ConveyLinx module a remote I/O block with motor control capability.  Any given system can contain a mix of ConveyLinx modules in both ZPA Mode and PLC Mode.
ConveyLinx-Ai2 also supports internal tracking for your ZPA system.  Tracking Data can be passed from zone to zone automatically as product travels down the conveyor system.  If there are complex mechanical controls on the conveyor such as pushers, transfers, mergers, or diverters, you can use the internal tracking to make the appropriate decision.
Even though ConveyLinx-Ai2 retains all settings and adjustments in its internal non volatile memory;  once you have fully configured and adjusted your system with EasyRoll , you can create a backup file containing all the settings and save it to you PC.  This backup file can be used to restore a given system back to its last known good operating state just in case something was unwittingly changed or modified.  
24V motor drive roller (MDR) or geared drive control system

2 zones per module reduces cost and saves time

ZPA logic built in for quick installation

Automatically reads Senergy-Ai motor connected for important information

Seamless integration with ConveyLinx and ConveyLinx-IO

Capable of user programmable on board logic for special applications

4-pin M8 standard connectors for motors and sensors

Ethernet networked for all major PLC suppliers

ODVA Ethernet I/P conformance tested

Profinet IO conformance tested

Low profile design

Capable of driving all PULSEROLLER Senergy-Ai motors
Card title
Card subtitle
Some quick example text to build on the card title and make up the bulk of the card's content.
Card link
Another link
Reduces Cost and Saves Time

Super Compact Design
Deterministic Network
Collects Important Information
Robust M8 Connections
CE ETL UL and IP54
Versatile
ConveyLinx-Ai2 gives you in-depth control of virtually every possible Senergy-Ai motor driven roller (MDR) or geared drive application in use today.  It can also be connected to most major brand PLC's using Ethernet-I/P , ProfiNet-I/O , Modbus-TCP , or CC-Link IE Field Basic with all required support files available for download.  Once a PLC is connected, ConveyLinx-Ai2 can be configured to take control over every zone in the conveyor system. 
Gives You Complete Control Over the System
ConveyLinx-Ai2
 offers the user three levels of control. The first is default 
ZPA mode
, which allows basic control over motor speed, zone accumulation, internal tracking and zone communication.  Even though ConveyLinx has control over the local logic so
a PLC is not required for operation
; you can still connect a PLC and provide supervisory controls.  Second is 
PLC I/O mode
, in which the module's default internal logic program is suspended, allowing a PLC to connect and take full control of the module's I/O and registers.  This mode effectively turns the card into a remote I/O block with DC motor control.  Third, the module's internal logic can be suspended, and a programmer can use 
ConveyLogix
 software to create customized programs with direct download to the
ConveyLinx-Ai2
controller.  This allows an operator to control all motors and I/O, effectively transforming the module into a fully functional PLC.  This type of control makes it perfect for controlling the more complex mechanical devices on a system without the use of another PLC. Need help? Contact our product specialists TODAY!
CONTACT US